As you may know, earlier this fall, Wahoo Fitness decided to sue Zwift for bringing its $499 Zwift Hub smart trainer to market. Wahoo contends that the Zwift Hub infringes several patents used in Wahoo's KICKR line of trainers. However, Wahoo is also simultaneously suing JetBlack, which built the aforementioned trainer for Zwift and sells their own nearly identical device (the JetBlack Volt) directly to consumers.
Wahoo originally filed the lawsuit against Zwift/JetBlack on October 3, the same day Zwift began shipping trainers to the US and European markets (Zwift previously announced the Zwift Hub on September 6, 2022). Zwift is not currently selling these sneakers in any other markets outside of the US and Europe.
Wahoo claims that Zwift and JetBlack have infringed the patent since 2014. We'll ignore the fact that this is the only problem with Zwift's decision to start selling trainers that cut the price of Wahoo's KICKR CORE by about 50%. We'll also ignore the fact that most other trainers on the market theoretically infringe on what Wahoo believes its patents cover. In the end, we end up ignoring the point that owning patents doesn't actually mean anything (since they're usually handed out like candy) – but successfully defending them is what counts. This is true for any patent from any company.
Regardless, the two separate cases have been slowly moving their way through the legal system since then. However, based on the volume of purely legal transactions filed in the court system, it's clear that JetBlack wasn't really the target (to make it even clearer, JetBlack has been selling the trainer for two years without any questions or responses from Wahoo).
In fact, Wahoo dismissed the lawsuit against JetBlack: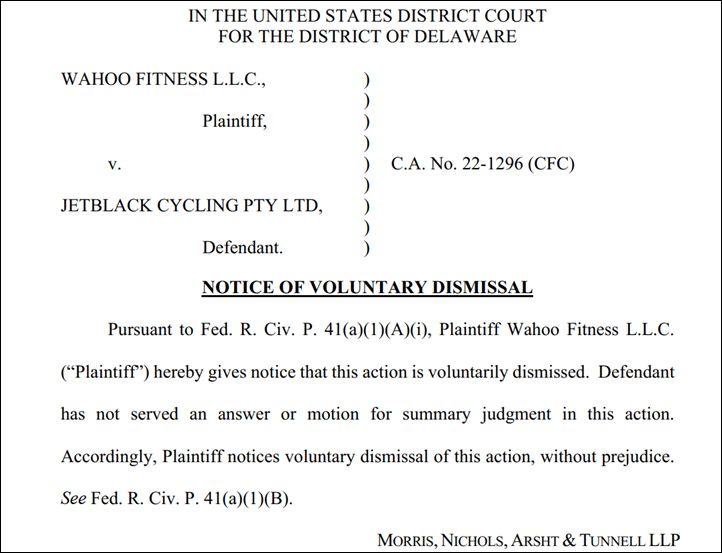 It's unclear what settlement, if any, took place here. Given that JetBlack was never really the target, the "settlement" could range from a small commitment to a single flat fee, to a per-unit fee for non-Zwift units, etc… Again, neither side will say, but actually , I'd be surprised if JetBlack had any meaningful impact, technically or financially. They were never the target, just collateral damage.
Meanwhile, back in the main event, Wahoo and Zwift have been busy fighting. Now, though, it's mostly Wahoo dancing. After their initial opening salvo, the Wahoo team subsequently filed more than half a dozen statements, including one from a local bike shop, saying the Zwift Hub would kill their trainer sales. Other statements include many beautiful technical images and dramatic statements. Later, the Wahoo team asked to publicly edit some parts of the document (the judge said "OK," taking some of the fun away). Most of these sections are related to finances. Oh, and then they asked for a temporary ban on Zwift selling trainers in the US (which the judge didn't seem to approve). Statements include those from CEO Chip Hawkins and CFO Nathan Fenwick (joined in September 2022) – here are some snippets.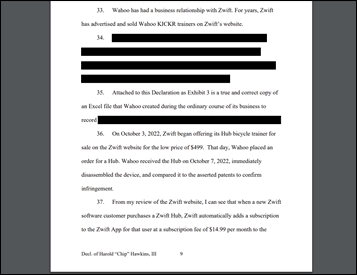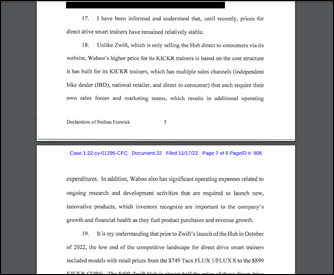 Meanwhile, Team Zwift waited until the first-round whistle blew, then asked to wait another month to allow more time to prepare (perfectly normal). The judge agreed. Then they let the clock run out again and submitted their opening lines, most of which were just a long line of "No, we didn't do that." There wasn't much interesting about their original papers.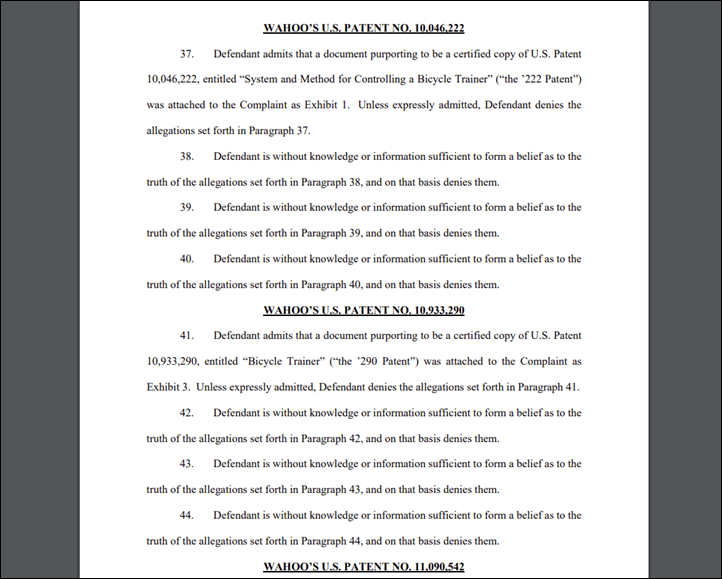 At this point, both sides seem intent on letting the case drag on for a while. The legal team has put together and agreed on a timeline for the case, which will be presented to the judge. That schedule runs through next spring: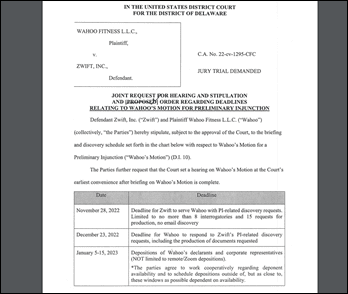 Today (December 1, 2022), the judge agreed to the proposed timeline and set a hearing date for April 11, 2023 at 9 am. Of course, this is just a stake on the ground. Both parties can settle before then, or ask for more time. Or drop the case altogether and go get ice cream together, I guess Rocky Road.
Move forward: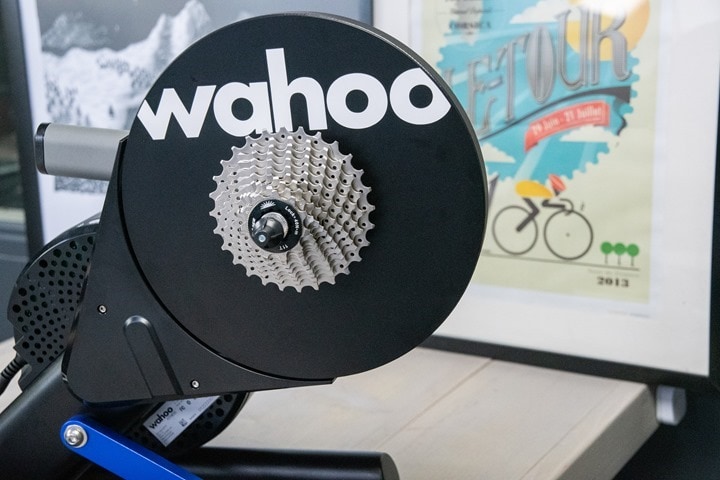 As for where is this going? Time will prove everything. However, after reviewing the relevant patents, I am very skeptical that Wahoo's specific claims and patents stand here. There's a lot more existing technology in this field than most people realize, and much of it actually predates Wahoo's trainers. Wahoo definitely opened the floodgates of the indoor smart coaching industry, primarily through the open software connection on their first KICKR. But before Wahoo came along, there were still a lot of trainer companies doing the connected trainer thing.
I'd also say more generally that with Wahoo's acquisitions of RGT and The Sufferfest, I'm concerned about the extent to which they will face countersuits from Zwift around software-centric patents Zwift may have in this space. After doing some research with the legal team hired by Zwift, it turned out that this wasn't their first BBQ.Of course, this is all set against the backdrop of the Wahoo Apparently another round of layoffs is going on today..
At the end of the day, none of this is good for consumers, and certainly not good for the smart coaching industry. As I've heard from some companies, this has had a chilling effect on cooperation between companies and agreements on technology standards (already at an all-time low). The indoor cycling industry is already feeling the effects of the bust moment, with Zwift and Wahoo both having multiple rounds of layoffs this year. Zwift is better positioned to weather the current storm financially than Wahoo, even though Wahoo is, conversely, more diversified in terms of products. Still, most of Wahoo's revenue is based on indoor bikes.
Anyway, I'll keep you posted if/when more spicy content is posted. Worth the 10 cents per legitimate page I paid for, sort of a breakfast snack for sports tech geeks.
So far, thanks for reading!