Motorists in parts of England have been urged to only travel if "absolutely necessary" after freezing weather caused dozens of crashes.
Avon and Somerset Police received more than 100 reports of road-related incidents in just five hours last night – with the majority of them caused by poor conditions.
Police received 53 reports of collisions between 6pm and 11pm, seven of which allegedly resulted in injuries.
Check the Sky News weather forecast for where you live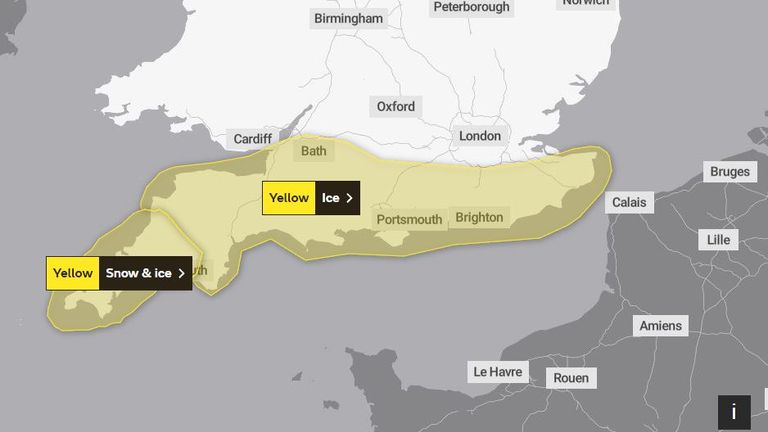 Proper gravel work is being done on the road ahead of this morning's rush hour and Sergeant Mark Runacres said: "If travel is necessary, we ask the public to take extra care and allow additional time for travel.
"Over the past 12 hours we have seen a marked increase in the number of road-related collisions and accidents, which has increased the demand on police resources."
Yesterday, the HSA issued a level 3 cold alert for "severe winter weather" – with low temperatures expected to persist across England until 9am on Friday, according to the Met Office.
Until 10am this morning, a yellow warning for freezing was in place across southern England, with a yellow warning for snow also in place for Devon and Cornwall.
Meanwhile, a yellow warning for snow and ice is due to expire at 12pm for Northern Ireland, north-west England and Wales, and 9am for Scotland.
Just after 3am, Devon and Cornwall Police tweeted: "Police are urging motorists to be cautious as heavy snow is sweeping through the area."
Officials confirmed the A30 motorway near Newquay was blocked due to the snow – with vehicles also trapped in the snow on the A39 in Trispen and the A391 in Bugle.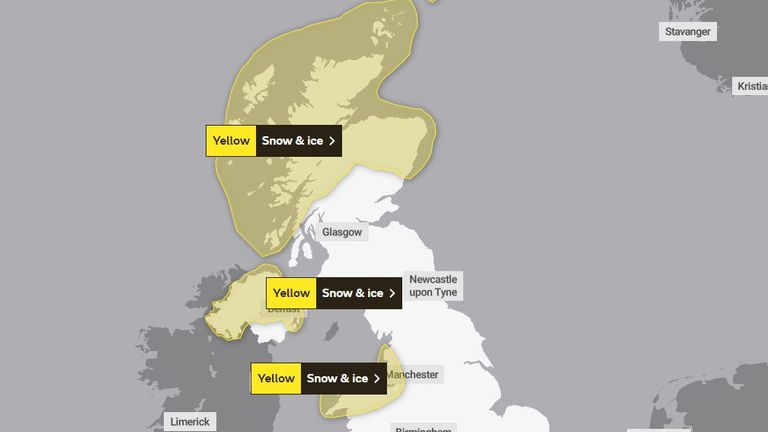 Brits are being urged to keep warm and keep an eye out for family and friends who may be more vulnerable to the cold weather.
The HSA is concerned that the sudden drop in temperatures could have "serious impacts" on people's health – especially the elderly and those with pre-existing health conditions.
Dr Agostinho Sousa, from UKHSA, said: "If you have a pre-existing medical condition or are over 65, by all means try to heat your home to at least 18C."
For people struggling to afford their heating bills, Simple Energy Advice offers free advice on energy efficiency and available state grants.