Before we list all the accidents involving Colombian airline Intercontinental de Aviación SA, let's take a look at the airline and see how it came to be. Established on October 16, 1960 as Aeropesca Colombia, the airline flies from its main hub, Bogotá's El Dorado International Airport (BOG), to various points in Colombia and neighboring countries.
After a series of accidents, the airline was sold to a group of new investors in 1982. To distance themselves from the crash, they immediately changed the airline's name to Intercontinental Airlines.
Things were going well for a while and the airline was seen as serious competition to Colombia's flag carrier Avianca. Sadly, the airline's good fortune didn't last long and was forced to cease operations after the crash of West Caribbean Airlines Flight 708 in Venezuela in September 2005.
Colombian authorities conduct security checks on Colombian-registered airlines
Following the accident, the Colombian Civil Aviation Authority required all airlines to conduct special inspections of their aircraft and maintenance facilities. The Intercontinental de Aviacion was not approved and ceased operations in September 2005.
Accident involving Aeropesca Colombia
On November 4, 1965, an Aeropesca Colombia Catalina seaplane disappeared on a domestic flight from Villavicencio. Both pilots died in the crash, but all four passengers survived and were found near the Peruvian border nine days later.
On July 11, 1966, a Curtiss C-46 Commando disappeared while flying over the mountains en route from Bogota to Buenos Aires, Argentina. Seven days later, the wreckage of the plane was found 124 miles south of Santiago, Chile. All eight passengers on board the plane died in the crash.
On January 5, 1974, a 31-year-old Lockheed Model 18 Lodestar skidded off the runway at Bogota Airport and ended up in a drain due to a landing gear failure. All five passengers on the plane survived.
On August 14, 1978, a 33-year-old Curtiss C-46 Commando crashed in the Palamo de Laura mountains near Tota, Colombia after going off course in bad weather. The plane was certified to carry only six passengers when it crashed, but there were 15 passengers on board. All three crew members and 15 passengers died in the crash.
On August 26, 1981, Aeropesca Colombia Flight 221, a domestic flight between Florencia-Gustavo Artunduaga Paredes Airport (FLA) and Neiva Airport (NVA), crashed after flying into the Santa Elena Mountains. Six crew members and 44 passengers on board the 25-year-old Vickers Viscount all died in the accident.
On March 26, 1982, a 24-year-old Aeropesca Colombia Vickers Viscount was operating a domestic flight between Villavicencio-Lavan Guardia Airport (VVC) and Bogota-El Dorado Airport (BOG) Crashed on a mountain near Quater. All 21 passengers and crew were killed in the accident.
accident involving intercontinental airlines
On January 11, 1995, a 29-year-old McDonnell Douglas DC-9-14 crashed on final approach to Cartagena-Rafael Nuñez Airport (CTG) as Intercontinental de Aviación Flight 256. All five crew members and only one passenger of the 47 passengers died in the crash.
On September 14, 1997, a seven-year-old Bombardier Dash 8 Q300 collapsed after landing at Matkania Airport. The plane was a scheduled domestic flight from Gustavo Rojas Pinilla International Airport (ADZ) in San Andreas to Pereira-Matecania Airport (PEI) in Bogotá – Layover at El Dorado Airport (BOG). All 44 passengers and crew survived.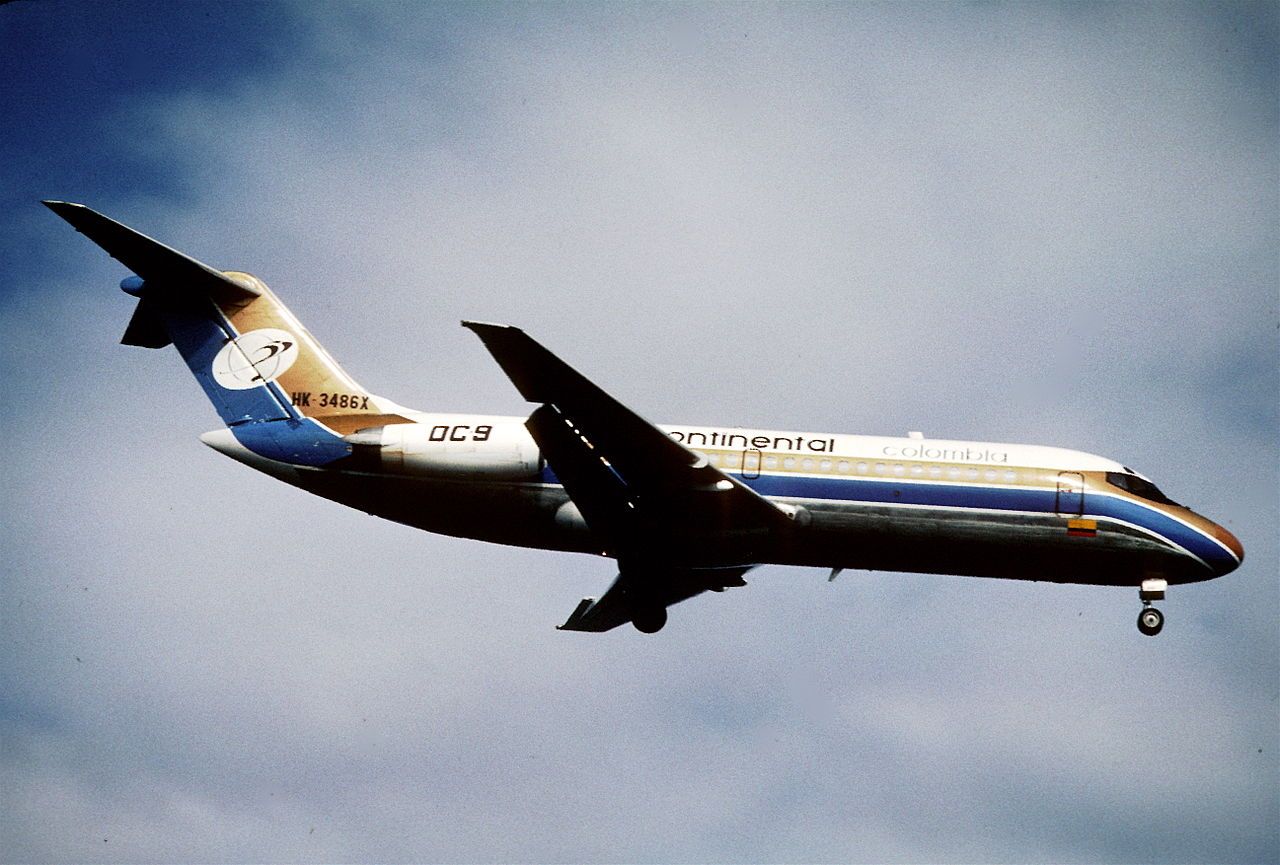 On June 14, 2002, a 36-year-old Intercontinental Airlines McDonnell Douglas DC-9-14 Flight 8883 skidded off the runway while landing at Benito Salas Airport (NVA). The pilots descended the plane to an altitude of 1,700 feet above the runway threshold but failed to stop the plane before it overshot the runway. None of the 71 passengers and crew were injured. However, this plane was not so lucky and needed to be written off.